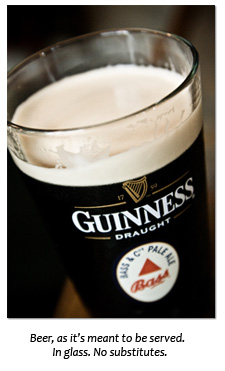 This weekend my wife and I went out on the town with some good friends. Being stalwart Pennsylvanians, we felt honor-bound by stately sporting obligations to find someplace after dinner to watch the Penn State/Ohio State football game.
We ended up finding a "sports bar" outside of the city. I use the term "sports bar" very loosely as most of the sparse patrons seemed more interested in perusing the surly barmaid's new lower back tattoo than fixating on the various sporting events being displayed on the numerous big-screen tvs.
After settling in, we ordered some beverages, some alcoholic some not, which were all poured directly into clear flimsy plastic cups.
I mention all this because it occurred to me that I'm pretty sure the last time I paid cash for a cold beverage that was a) served in a plastic cup and b) not purchased at a state fair, I was most likely:
Wearing copious amounts of flannel.
Paying 5 dollars for the right to own said plastic cup thereby entitling me to a night's worth of beverages (not including Jell-o shots and/or shooters.)
Exposed to voluminous amounts of cigarette smoke, co-eds, all the Pearl Jam I could handle, and ultimately, lowered expectations and social disappointment.